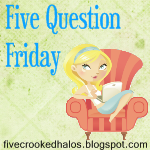 1.
What is your favorite Christmas decoration in your house?
We don't currently have any Christmas decorations in our house. But when I come home from being back home in Idaho we are going to get a tree and decorate our home a little for Christmas.
2.
Do you finish your Christmas shopping early or are you a last minute type?
It depends really. This year, I have been totally last minute.
3. When do you turn on your heat?
We haven't really had to turn on our heat yet. There has only been a few times that we have had to turn it on and it was around bed time that we turned it on.
4. Do you ever wish your blog was private?
There are times that I wish that my blog was private, but I am glad that it isn't because I love knowing that I have family and friends back home that are reading my blog and it makes me feel good.
5.
Do you put your deodorant on before of after you put on your shirt?
I usually put my deodorant on after I have put on my shirt.