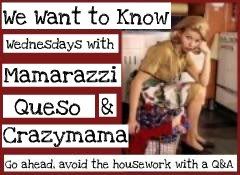 1. What is the worst job you have ever had?
I have loved all my jobs. I haven't hated any of them yet.
2. Have you ever been fired?
No, not really. While I was a receptionist at a nursing home they decided to take my part time job and give it to the full time lady and make it so there was only one receptionist all day.
3. What would your dream job be?
My dream job would be to be a teacher. And I am currently working on my Early Childhood Education Associates Degree.
4. What did you want to be when you "grew up"?
I wanted to be either a teacher, a doctor, a brain surgeon, or a pilot.
5. How old were you when you got your first job?
I was 16. I started out as a volunteer at the nursing home that my mom worked at as a nurse. I helped out in the activities department and then shortly after, I got hired as an activity assistant. I then later got hired at the same place as a part time receptionist.