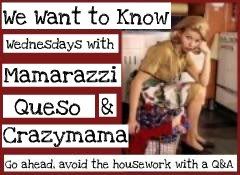 1. What is your favorite cookie to eat?
Hmmm... I love cookies! I love! love! LOVE! cookies! But my favorite cookie has probably got to be No Bake cookies. They are to die for, I believe. I love to make them. I have even got the recipe memorized and I shall share my recipe with you. They are great and easy to make. Even late at night.
No Bake Cookies
2. Have you ever done a cookie exchange?
No, I have not. I have never heard of one either.
3. How are you doing on your holiday shopping?
Haven't gotten any of it done yet.
4. What is your holiday shopping style? (A little at a time, or power shopper? Early in the season or last minute? Online or part of a crowd?)
I tend to shop last minute. But hopefully this next year I can shop a little at a time and early in the season. I tend to prefer shopping in a crowd to online.
5. Light displays... Do you put them on your house? What is your style? Favorite kind to see?
I love light displays. We didn't put any lights up this year, but we are planning to next year. I like simple light displays if we are going to put them up around our place rather than going all out. Although, I love to go out and look at the more out there displays that people put time and effort in to doing.