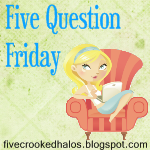 Rules for 5

QF

: Copy and paste the following questions to your blog post, answer them, then watch for the

linky

post to appear Friday morning! And most importantly, HAVE FUN!!

1. If you had a weekly newspaper column, what would you name it?


If I had a weekly newspaper column I would probably call it... I don't know. It would probably have my name somewhere in the name. And would be a catchy name.


2. Who is your mentor/inspiration?


Who is my mentor/inspiration? I don't know. I have a few people who inspire me. Some people who inspire me is...
1. My Momma. She inspires me because through thick and thin, she still continues on and doesn't let something bring her down completely.
2. My Grama. I think that I learned a lot of my cooking from her. If I have a problem with something that I am cooking, she is usually just a phone call away and will answer my question about cooking.
3. My Uncle Ted, and Uncle John. My Uncle Ted, inspires me because he works so hard at everything he does. Especially his memorizing. My Uncle John inspires me to do my best when taking pictures as he is always doing the same thing himself. He does a wonderful job at taking pictures. Hopefully one day, I will be as good as him.
I know I probably have missed someone who is a mentor and inspires me. But I think that about everyone in my life has inspired me somehow.


3. What is your wake up beverage of choice?
My wake up beverage of choice would be almost anything BUT hot coffee! If I drink hot coffee in the morning, it makes me even more tired than I was before drinking it.
4. Would you wear your mom's clothes?


Probably not. I think that because my mom is a nurse and works long hours, she spends more time in scrubs than actual clothes. I don't care much for wearing scrubs unless I am wearing them as pajamas. And a lot of my mom's scrubs are cute. I just wouldn't be able to wear them on a daily basis.
5. When you were a kid, did you put posters on your wall? If so, what were they of?
I did put posters on my walls. My walls used to be covered in posters. I had movie posters, music artist posters, and cute posters like cats and dogs. I also had the inspiration posters on my walls as well.