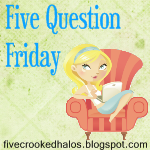 1. W
hat is your current favorite tv show?

I am in love with Army Wives, Secret Life of the American Teenager, Grey's Anatomy, and Pretty Little Liars, and just started watching the first season of Glee.
2. W
hat's the worst haircut you ever got?

When I got my hair cut too short. I hated it!
3.
What was something that you did as a child that you thought you were so cool for doing?

I am not sure.
4. D
o you have any GREAT frugal family fun tips?
5.
Would you drive across country if you had the money to fly?
I would. I wouldn't mind driving across the country. I have always wanted to.