Top Ten Random Thoughts and Feelings on
My Mind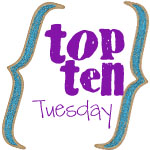 1. I
wish
I could see my mom and my brothers and sisters. I
wish
that they could come and visit Lyric, Chris and me.
2. I am
happy
that my grama has come to visit us. It has been a fun last couple of days that we have had.
3. I
absolutely
love
my daughter! She is the light of my eye and I cannot get enough of her.
4. Aren't we all
supposed
to blink, so that we can keep our eyes moist? Lyric, who is almost 7 months
rarely
blinks. But yet, her eyes are still moist.
5. My head hurts. I think that I did my hair up too high and too tight this morning.
6. Chris, is being
too
quiet! It is beginning to bother me.
7. I want to wander the Virginia Beach Boardwalk before my grama leaves on Sunday.
8. Today was a
beautiful
day for going to Williamsburg and visiting the colonial town.
9. I am ready to go to bed. If only Lyric would go to bed as well. She seems restless and can't seem to get comfortable to fall asleep.
10. ZZZzzzzz!!!!!!!!! This is what I feel like doing.