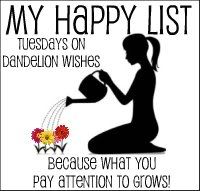 I am going home! I get to go home next Wednesday! I have been counting down the days for the last eight months! And every week when I link up with My Happy List I realize that it is that one day closer to the day I leave!
Lyric turns one year old this week! I cannot believe how fast time has flown by. It feels like yesterday when I gave birth to her and held her in my arms for the first time.
Chris has the rest of the week off! So, I get to spend one long weekend with him and he gets to spend one long weekend with Lyric before we leave next week. Yeay! Much needed together time!