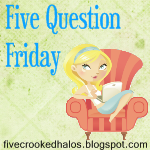 1.
What movie do you love to quote?
I love to quote movies. I can quote every Harry Potter movie word for word. I can quote Twilight, Thumbelina, almost every CLASSIC Disney Movie, and many chick flicks.
2. H
ave you ever ridden a motorcycle?
No, I have not. Would I like to? Yes!
3.
What's your favorite thing to do on a rainy day?
Snuggle in a blanket and watch movies.
4.
Do you prefer a bunch of small gifts, or one really big, (expensive) gift?
5. D
o you ever lose track of days and show up somewhere wrong?
It hasn't happened to me yet. But I hope that it doesn't.