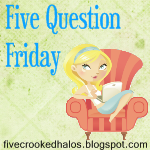 1.
Is there a special dish you prepare that you are famous for?
When I was younger I remember going to my God Mothers house for quite a few Thanksgivings and she would make Punch Bowl Cake. And boy did I fall in love with that Punch Bowl Cake. I have heard stories about when I was younger, getting up in the middle of the night and raiding the refrigerator for the left over Punch Bowl Cake.

Well, I have started to make that dish/dessert for a few Thanksgivings and Christmas'. Although, I didn't get to make it this year as it was my first year having a turkey dinner with my own family. And boy, did my turkey turn out great! It was delicious and moist. I could hardly believe it!
2.
Are you (did you) go Black Friday shopping ?
No, we did not go Black Friday shopping. Although, I will go Black Friday shopping one year!
3.
What are your strangest holiday traditions?
We haven't got any holiday traditions yet. Seeing as this last year has been our first year together as a family. But we will end up with some eventually.
4. Pecan or pumpkin pie? (She actually asked "Apple or pumpkin?" I just T-
giving'ed
it!)
Pumpkin! I love Pumpkin Pie! Especially Costco's Pumpkin Pie!
5. When will you put up your Christmas tree?
Hopefully when me and Lyric come home from Idaho we will go out and find/buy a Christmas tree and decorate the house.