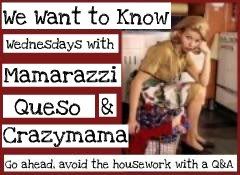 1. What is your favorite food item at Thanksgiving dinner?
My favorite food item at Thanksgiving dinner is the turkey stuffing. I absolutely love my grama's turkey stuffing. She stuffs the bird with the stuffing and I just think that it is the best. Much better than the traditional stove top.
2. What is your least favorite?
My least favorite food item at Thanksgiving dinner is probably the turkey. I'm not much of a turkey eater. One piece is good enough for me.
3. Do you have a favorite pie?
My favorite pie is pumpkin pie with whipped cream on top. Or any Marie Calender's pies.
4. Do you have any Thanksgiving traditions?
While I was growing up we would go to my grama's house. She would make the whole Thanksgiving dinner and we would eat around two in the afternoon.
Soon, Chris, Lyric, and I will have our own traditions. Can't wait to make them!
5. Black Friday shopping? Do you participate in the delightful running through the stores in the wee hours of the morning madness or hibernate at home and shop online?
I've never gone Black Friday shopping. But, I would love to!