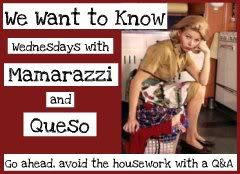 I'm joining in with Mamarazzi & Queso again this Wednesday for We Want to Know!
1. What is the best advice someone has ever given you?
The best advice someone has ever given me would probably be to let go of the past and move on with my life.
2. What is your greatest accomplishment?
My greatest accomplishment so far would be that after 9 months of raising my beautiful baby girl, I am ready to start school again. I have found an online college, and I have started my studies this past week. Yeay!!
3. Who do you admire?
There are quite a few people that I admire. For one, I admire my Popa. He was a very good man and I think that he did a lot of good in his life. And I miss him very much!
4. If you could change one thing about yourself what would it be?
I would change my weight. I would love to be back to my weight that I was before I got pregnant.
5. How do you want to be remembered?
I want to be remembered as a good person.